Pigment dispersions
Campbell Plastics is a leading supplier of clean, accurate and cost-effective additives for the colouration of liquid plastic materials used for a variety of moulding and production processes.
Available in any quantity from 5 litres upwards and suitable for a wide range of applications, protective coatings, flooring, moulded products and more, our high-quality pigments are tailored to suit your specific requirements.
---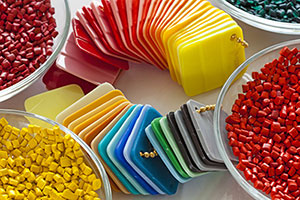 Colour match service
We can provide a matching service to any colour that you require, including all Pantone and RAL colours. We will quickly and efficiently formulate the solutions you require, from bright, bold and funky through to specialist tones, hues and finishes.
---
High quality results
Our pigment dispersions contain high pigment loadings and provide highly accurate and tightly controlled colours, helping to ensure consistent and high quality results.
Campbell colour dispersions are formulated to be easy to handle and to blend smoothly and evenly. All dispersions meet requirements for stability and toxicity, and are available in varying viscosity from liquid through to pastes to match your production requirements.
---
Pigment dispersions for polyurethane foam
We also manufacture and supply pigments for the colouration of polyurethane foam, from simple single colour applications through to highly specialised and unusual finishes.
Pigment dispersions for epoxy resins
Commonly used as industrial and commercial floor coatings, epoxy resins are very tough and durable. Our pigments enable our customers to create almost unlimited combinations of colours, shades and textures.
Talk to the pigment dispersions experts.
Call us now on 01536 516563 or email us to find out more.